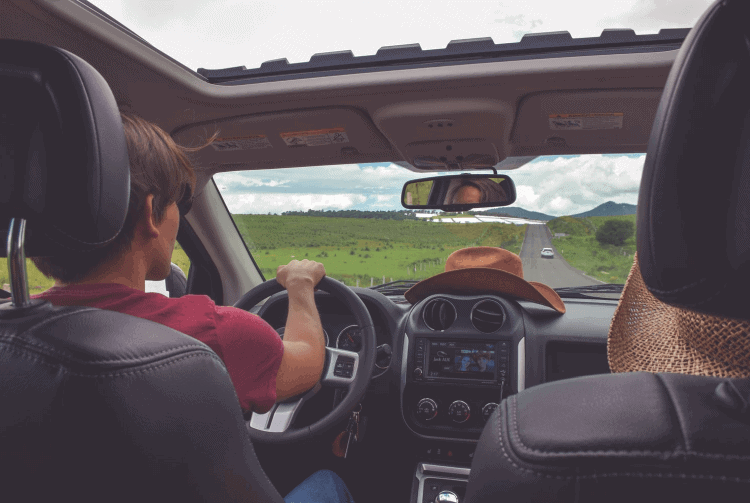 What Are The Best Tips For Making Those Car Journeys In 2021?
The long car journey is an activity that fills some people with bliss and others with dread!
We've all had to make a long car journey, whether it's been for work, leisure, a special event, or just to drop in on the grandparents for a hot brew!
Driving can often be exciting, especially long distances when you are exploring new areas. However, it doesn't take that long for the novelty to wear off, and long distances can become something that will not be one of your favourite tasks.
Long car journeys can often mean that unless you are traveling alone for work, there will be more than one person (the driver) on the trip and can possibly involve children.
So what can we do to make the best of long-distance car journeys while keeping everyone safe and happy?
Read on to find out all you need to know!
Basic Car Safety
Why is it important to keep on top of your car safety?
Let me put it to you this way – if you were on a plane and the captain said, "I've kicked the tyres, and the oil light hasn't come on, so we're all good to go!" Would you still fly?
No, I'm pretty sure you wouldn't!
Car safety is just as crucial as plane safety, and you need to make sure that everything is topped up, inflated, and secured to make your ride as smooth and safe as possible, including:
Make sure your car service is up to date.
Make sure all the legal requirements are in place, such as insurance, tax, and MOT.
Make sure your oil and water levels are at the required levels.
Ensure your tyres are inflated within the correct PSi parameters, are in good condition, and have the proper legal depth of tread.
Make sure the lights and indicators all work as they should and the lenses are clean.
All of these elements of car safety and legal requirements will make a long journey safe.
Tyres
Your tyres are your main contact point on the road for your journey, so it's obvious they need to be in the most optimum condition possible as they will be turning many times on your long journey!
For the safest journey, ensure all of your tyres (including the spare, just in case) are inflated to the correct bar/psi level. Ensure they have ample tread and don't have any cracks or show any tyre threads.
Levels
Under the bonnet of any vehicle can be a mini "Narnia" to some people. Still, for any journey (specifically long journeys), you need to be familiar with the basics of maintaining your fluid levels, including:
Coolant
Brake Fluid
Engine Oil
Windscreen Wash.
These need to be topped up to the recommended level, with the correct fluid for each element to ensure a long safe journey ahead.
Dash Cams
Every time you're out on the road, there is a potential for witnessing or being involved in road accidents and incidents.
Dash cams are great for ensuring your long journeys are safe, not only by giving you a more overall view of the road and happenings around you, but they can catch footage that may be of assistance during an insurance claim.
Although not required by law, these little cameras can save you time, money and could help someone if anything occurs.
Spare Accessories
It is always worth carrying a spare in the vehicle just in case!
Carrying spare bulbs, water, oil and of course a spare tyre.
Tools/ Maintenance Equipment
Carrying a small set of essential tools in the boot is always going to serve you well on a long journey, and multi-use tools will also have other uses for other things, so consider:
A car jack
Screwdriver
Jump leads
Foot pump/compressor.
Many motorists now carry a "3 in 1" booster box, which can save space by combining jump leads, compressor, and 12v "cigarette lighter" sockets.
Personal Care
When planning a long car journey, there's no use going to bed in the early hours and being up again at 7 am and heading out.
You need to take care of yourself leading up to a long-distance drive for safety.
This is easily achieved and can include things like:
Sleep – Get a good night's rest the night before so you're bright-eyed and bushy-tailed in the morning.
Eat Right – Have a good nutritious breakfast and try to stay away from "car snacks." While fizzy drinks, sweets, and crisps may give you a boost of energy, it won't be long before you come crashing down.
Slow energy release foods like oats, bananas, and salads can keep you focussed for longer.
Hydration – Of course, where there's food, there'll be drinks.
Caffeine is the natural go-to when driving because it keeps you focussed and alert. But don't forget caffeine is a diuretic, which can increase dehydration if consumed in large quantities.
For this reason, keep a bottle of water (or 3) to hand and sip little and often.
Plan Ahead
Like all good journeys, you need to know where you're heading to.
This includes scouting out possible toilet breaks, rest breaks, and of course, food breaks.
If you've got children on board, then there's a high chance that you're going to make several toilet stops.
Wouldn't it be convenient if you could also grab some food and keep everyone happy for another 50 miles?
Ideal places to stop for refreshments and comfort breaks include:
Service Stations
Layby's
Picnic Spots
Truck Stops
Café's
Navigation
Although some people still prefer maps and planning the route ahead, most people these days have sat nav to hand, where you just type in your destination, and it does all the work for you.
There are many respected sat navs on the market nowadays.
That being said, many modern phones also have a sat nav built in AND can give you alternate routes should there be a closure or obstruction.
Either way, you should ensure you have a means of charging the device in the car, so you don't end up getting terribly lost in the middle of nowhere!
Passing The Time
As mentioned before, if you've got children in the car, there's a chance that somewhere in the middle of your journey they'll get bored.
When/if this happens, a great way to pass the time is by playing games.
"I Spy," "Yellow Car," "What colour is it," "Alphabet game," and "20 questions" are all popular games to ease the boredom for kids, and not forgetting "Name that Tune."
For this, you're going to need music, which leads me nicely on to the final tip.
Audio
Whether you're playing with the kids, restarting the audiobook chapter, or just bored with the radio, audio is a great amenity to have in the car.
You can play games, listen to podcasts, or sing-a-long with your favourite artist.
Music is a great way to keep engaged on long drives. Don't forget to create a playlist beforehand!
Which of the above do you already do?
Which don't you do?
Which are you going to start doing?
 Conclusion
Overall, long journeys are something that everyone is likely to incur at least once in their lives, and for some people, it is the norm!
The trick is to be prepared, both within the vehicle you are travelling in, yourself, and the activities you can do in-care that will help pass the time when your passengers start getting a little bored!
Making frequent stops at areas such as service stations can ensure that everyone stays comfortable and hydrated throughout the journey.
The most essential element of a long car journey is the safety element, which will ensure you get to your destination swiftly, safely, and without too much drama.